Ground-Penetrating Radar
Concrete Visions, LLC is a spin off of G&M Services, LLC. In 2002 G&M Services added GPR Scanning Services to our arsenal. In 2003 decided to form Concrete Visions, LLC. Since then we have been working together as a one stop shop to perform all our clients' needs regarding GPR Scanning, Concrete Sawing & Drilling and Firestop in a safe manner with competent and knowledgeable staff. Our staff has over 25 years experience in the concrete sawing and drilling business.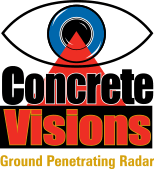 Concrete Visions, LLC Offers the Following Services:
GPR (Ground Penetrating Radar) Scanning in Concrete to Locate the Following in Concrete Slabs
Rebar
Metal Conduit
Plastic Conduit (PVC)
Stress/Post Tension Cables
24/7 Emergency GPR Scanning, Concrete Sawing and Drilling Projects
Concrete Visions, LLC concrete scanning services are so accurate that in 2010 we performed 6,800 scans with only 7 reported incidents. These statistics support our philosophy that the proper training of our field mechanics leads to better GPR accuracy for our clients.
Our Field Mechanics are Trained to:
Take Visual Surveys of their Surroundings in the Field to Help Identify Possible Obstructions
Observations when Possible, Can be Made Above and Below the Concrete Slab
GPR and How to Read the Scans Accurately
Plastic Conduit (PVC)
Why Choose GPR?
Real Time Results – After a GPR scan a field Mechanic can send it to their supervisor who will then clean up the images and forward them to their client and /or structural engineer for their review
No Radiation
Can scan up to 24″ – However, in most areas 16″- 18″ are scanned more accurately (images are visually clearer). Depth of scan is determined by how many targets are in the concrete slab
GPR is Safer than X-Ray- gives off less of a signal of a cell phone
GPR Scan can be performed on one side of a concrete slab
Call Concrete Visions, LLC Today at (410) 766-2210 to Learn More About Our Concrete GPR Scanning Services.
Join Our G&M Services, LLC, Firestop and Concrete Visions, LLC Lunch and Learn Sessions!
We believe educating our clients regarding the concrete services we provide is vital.
Our Lunch and Learns offer the Following Topics:
G&M Services, LLC Services – Core Drilling, Concrete Sawing, Flat Sawing, Road Sawing, Slab Sawing, Wall Sawing, Wire Sawing, Concrete Pour Back and Concrete Demolition
Firestop Services – Mechanical, Electrical and Plumbing through Penetrations, Slab Edge Firestop, Curtain Wall Firestop, Head of Wall Firestop, and Joint Firestop Firestop Systems
Concrete Visions, LLC Services – GPR (Ground Penetrating Radar) Scanning in Concrete to Locate Rebar, Metal & Conduit, Stress/Post Tension Cables
Ways to Handle Projects
Estimating – How to Price for Our Concrete Cutting and Firestop Services – we will give you formulas and how to use them when estimating for small and large projects
Concrete Cutting and GPR Equipment Use and the Limitations
Call us today at (410) 787-8828 to learn more about our next Lunch and Learn.