About G&M Services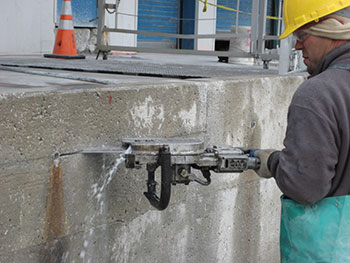 G&M Services offers concrete cutting services to clients throughout Maryland, D.C., Baltimore, Virginia, and Pennsylvania. By combining the concrete cutting services of G&M with the firestop installation services of FireStop and the concrete scanning services of Concrete Visions, we are able to offer comprehensive concrete services that result in a more efficient workflow on the job site. With a staff that has more than 25 years of experience in the industry, you can trust G&M Services to cover any and all of your concrete cutting needs.
G&M Services, LLC was formally established in 1999, and from the start we have worked to build long-term relationships with our clients, devise unique solutions to meet their needs, and perform quality work at a fair price. Thanks to the repeat business and recommendations of our many loyal customers, G&M Services has continued to grow in size and scope.
Our concrete cutting services include:
Slab sawing for trench work, elevated slabs, and stair openings
Wall sawing for doorway openings, bay doors, windows
Wire sawing for thicker concrete
New pipe penetrations for plumbers, electricians, steamfitters
Commercial concrete sawing and drilling
Industrial concrete sawing and drilling
Highway and roadwork concrete sawing and drilling
High-security concrete sawing and drilling
Our Project Process
Site Visit – When you contact G&M Services regarding concrete sawing and drilling, we begin by scheduling a site visit to discuss the project and advise you on the best possible solutions, for safety and cost.
Estimate – Our pricing may not always be the cheapest, but it reflects the level of safety and quality needed to complete the project correctly.
Scheduling – We begin the project on an agreed date. Our highly-trained and knowledgeable field mechanics are briefed regarding the project and are given a copy of the site visit and plan.
Completion – When the project is completed, the client signs off on the work order. We ask our clients to complete a customer feedback form, to help us constantly improve our service.