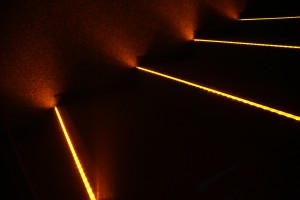 As a facility manager, it's crucial that you enhance life safety measurements annually. Emergency Preparedness saves lives and the best way to save building occupants during an emergency is to establish a safe evacuation route. You can create a safe evacuation plan for your building occupants by using photoluminescent evacuation systems.
Photoluminescent technology products allow facility managers to remove the uncertainty that the building occupants will have difficulty finding the emergency exits because phooluminescent technology does not need batteries or electricity to operate. Often at times loss of life occurs in facilities because facility managers rely on electrical and battery powered exit signs and lighting to help building occupants evacuate. A good emergency preparedness strategy will have reliable emergency egress systems set in place. To put it simple, photoluminescent exit signs and photoluminescent egress systems are essential to your emergency preparedness plan.
About the function of Photoluminescent Technology
Photoluminescent technology is a collection of non-radioactive crystals. The crystals absorb natural light and store that energy. It will glow when the light energy is needed for an emergency evacuation. With the advancements in photoluminescent technology your photoluminescent technology products will glow longer and brighter. The photoluminescent products are perfect for exit signs, egress systems, concrete surfaces, fire fighter gear/ equipment and more.
Here are the best places to install photoluminescent egress systems at your facility:
-Handrails
-Stairways
-Landings
-Doors and overall floor areas.
On average the glow of photoluminescent technology can last up to 96 hours at a time during total darkness emergencies.
G&M Services is here to provide you the right life safety systems for your facility today, including photoluminescent technology. As the facility manager, we want you to have peace of mind about your life safety systems. We want your building occupants to know they can safely evacuate your facility during any type of emergency.
With photoluminescent technology you will improve the building evacuation times and protect your building occupants as best as you can. Here at G&M Services we are ready to design effective photoluminescent evacuation systems for your facility. Never again will you have to worry that your fire emergency plan will fail because of a power failure or other obstacles. We have the photoluminescent technology you need to get occupants out safe and sound. Best of all, our photoluminescent evacuation systems are very cost-effective, so you won't have to break an arm or leg to improve your life safety systems.
Learn about the benefits of our Photoluminescent products by reading Fire Safety: The Benefits of Photoluminescent Technology. Photoluminescent technology is not radioactive.
For fire safety applications / Photoluminescent products, contact G&M Services at 410-787-8828 today.
G & M Services, LLC is your resource for Concrete Sawing, Drilling, Ground Penetrating Radar (Concrete Scanning), and FireStop services for the Maryland, Baltimore, DC and Virginia Areas. Counties include:
Maryland: Allegany, Anne Arundel, Calvert, Caroline, Carroll, Cecil, Charles, Montgomery, Prince George's, and St. Mary's
Virginia: Arlington, Dorchester, Fairfax, Frederick, Garrett, Harford, Howard, Kent, Loudoun, and Prince William
West Virginia: Berkley, Jefferson, Morgan, Queen Anne's, Somerset, Talbot, Washington, Wicomico, and Worcester District of Columbia
You can follow us on Facebook and Twitter as well!
Source:
http://www.todaysfacilitymanager.com/2010/09/web-exclusive-photoluminescent-technology-leading-occupants-to-safety
http://plsafety.org/news/photoluminescent-technology-leading-occupants-to-safety/